Sea Hunt

Starring Lloyd Bridges as Mike Nelson
Sea Hunt was one of the most popular shows in syndication in the late fifties.
There was lots of action on Sea Hunt , and the underwater fight scenes were spectacular as Mike Nelson hunted down criminals from the undersea underworld and ran afoul of sharks, manta rays, octopuses and giant sea turtles.
This show was produced by Ivan Tors and the underwater footage was shot in various warm water places around the world, from California to Australia, from the Caribbean to the Florida Keys. While fill-in footage was filmed in exotic locales, most of the show's action scenes were shot in a huge aquarium located in California's long-gone Marineland amusement park in Palos Verde's.
42 Great episodes on this 6 DVD Collection, recorded mostly from 16mm film.
You'll love the quality of these shows.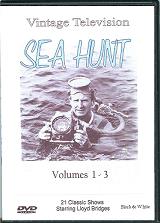 Volume 1 Volume 2 Volume 3
Sonar Queen

The Capture Of The Santa Rosa

The Shipwreck

Lord Christobal

Operation Green Back

Chain Of Evidence

The Getaway

The Replacement

Diplomatic Pouch

Point Of No Return

Hot Tracer

The Defector

Quicksand

Superman

The Midget Submarine

Hardhat

The Female Of The Species

The Sea Sled

The Stunt

Cave Diving

The Sea Serpent
Volume 4 Volume 5 Volume 6
Speaking of Lamatsu

Rescue

Mercy Ship

Port Security

Flooded Mine

Rapture of the Deep

Mark of the Octopus

Asylum

Water Nymphs

Mister Big

Hot Cargo

Jade Cavern

Expatriate's Return

Roustabout

The Invader

Changing Patterns

The Catalyst

The Saint Story

The Imposter

The Dam

Underwater Unit
This collection is in the Public Domain
---
Order the 6 DVD collection for Only $29.99
---
---
PayPal, Checks and Money Orders are accepted!
For Questions
Click Here
the Mailing Address to send payment
Pay us securely with any major credit card through PayPal!