Journey to the Unknown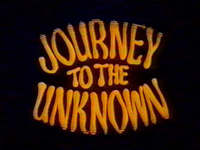 Complete TV Series of 17 episodes.
1968 - 1969 - 6 DVD Set

British Anthology with the feel of the Twilight Zone.
Each show featured an American actor in the lead role with British
supporting players.

The series was about everyday people finding themselves put into
unusual circumstances...many of them supernatural in nature.

All 17 Great episodes on this 6 DVD Collection
Plus Bonus Episode.
You'll love the quality of these shows.
Eve - Carol Lynley
Jane Brown's Body - Stefanie Powers
The Indian Spirit Guide - Julie Harris

Miss Belle - George Maharis
Paper Dolls - Michael Tolan
The New People - Robert Reed

One on an Island - Brandon de Wilde
Matakitas is Coming - Vera Miles
Somewhere in a Crowd - David Hedison

The Beckoning Fair One - Robert Lansing
Poor Butterfly - Chad Everett
Stranger in the Family - Anthony Corlan

The Madison Equation - Barbara Bel Geddes
The Killing Bottle - Roddy McDowall
Do Me a Favour and Kill Me - Joseph Cotten

Girl Of My Dreams - Zena Walker
The Last Visitor - Patty Duke

Bonus Show From the series "Out of the Unknown"
the "This Body is Mine" episode.
This collection is in the Public Domain
---
Order this 6 DVD Collection for Only $29.99
---
---
PayPal, Checks and Money Orders are accepted!
For Questions Click Here
the Mailing Address to send payment
Pay us securely with any major credit card through PayPal!