WHIRLYBIRDS 1957-60 TV
5 DVD Set (32) episodes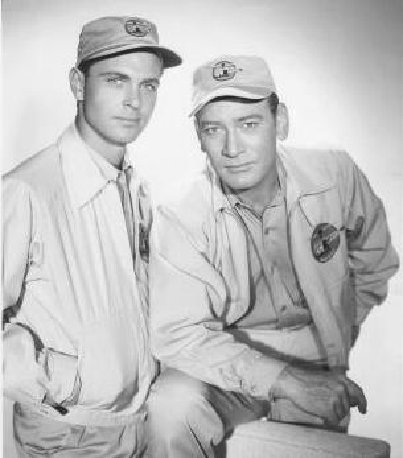 The Whirlybirds flew into our television sets featuring Bell 47 helicopters. Chuck Martin (Kenneth Tobey) and Pete "P.T." Moore (Craig Hill) are the owners of Whirlybirds, Inc, a chopper for hire company based in California. Each week, Chuck and P.T. would find themselves called to help the local authorities in search and rescue. The show was filmed at the San Fernando airport and Whitman Field in and around Van Nuys, California and was conceived after a show idea from an I Love Lucy episode. Helen Carter (Nancy Hale) was the firm's secretary, replacing Janet Culver (Sandra Spence) midway through the 1st season. The show was the first television series to feature helicopters as it's main focus and inspired hundreds of young people to become chopper pilots. The Whirlybirds was also the place of introduction for Bell's improved model helicopter, the Bell 47J Ranger.
32 Great episodes on this 5 DVD Collection, recorded mostly from 16mm film.
You'll love the quality of these shows. Sorry no menu's for this collection
---
Volume 1 Volume 2 Volume 3
The Deacon


The Big U


Bankrupt Alibi


The Killer


Airborne Gold

Two of A Kind


The Challenge


Fury Canyon


Take A Little


Experimental X74


Aerial Circus


Rustlers

Wanted Alive


Rest In Peace


Iron Mountain


Dog Gone


Mountain Flight


Ghost Town + Aztec Find
Volume 4 Volume 5
Glamour Girl


Man You Kill Me


Missing Witness


Seven Orchids


Cycle of Terror


Dr. Dixon M.D.


Sister Bridget

Search For the Unknown Man


The Ashley Case


His Brothers Keeper


Obsession


Mr. Jinx


Operation: Blue Hen


Infra Red
This collection is in the Public Domain
---
Order the 5 DVD collection for Only $29.99
---
---
PayPal, Checks and Money Orders are accepted!
For Questions
Click Here
the Mailing Address to send payment
Pay us securely with any major credit card through PayPal!