68 Episodes from Television on 17 DVD's
Plus as a Bonus - 229 Radio Shows in MP3 on 1 DVD
Wild Bill Hickok Collection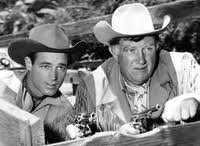 Guy Madison .......... James Butler Hickok
Andy Devine .......... Jingles B. Jones

The Adventures of Wild Bill Hickok was a western action series about a U.S. Marshall and his 300 pound sidekick who brought bad guys to justice in the old west. Wild Bill Hickok's sidekick, Jingles, would always introduce him as "The bravest, strongest, fightingest U.S. Marshall in the whole west!

There was a real-life Wild Bill Hickok. He was the Marshall of Abilene, Kansas. He also had worked as a Union scout during the civil war, an indian scout for Colonel Custer and even as a pony express rider!

Jingles' horse was named "Joker" and "Buckshot" was ridden by Wild Bill Hickok.

Wild Bill Hickok Opening Narrative:
(Andy Devine's voice as Jingles:)
Andy Devine: "WILD ... BILL ... HICKOK!!!"
Narrator: "Starring Guy Madison as Wild Bill Hickok"
Andy Devine: "Hey, Wild Bill ... wait for me!"
Narrator: "And Andy Divine as his pal, Jingles"


---
The Collectors Edition includes the following TV Episodes
The Rock Springs Rustlers
Indian Bureau Story
Ghost Town Story
The Boulder City Election
The Lady School Teacher
Mexican Rustlers Story
Hepsibah
Border City
Ex-Convict Story
The Slocum Family
Medicine Show
Blacksmith Story
Mexican Gun Running Story
School Teacher Story
Vigilante Story
The Professor's Daughter
The Outlaw's Son
Savvy, the Smart Little Dog
Wild White Horse
The Trappers Story
The Boy and the Bandit
Jingles Becomes a Baby Sitter
The Fortune Telling Story
Prairie Flats Land Swindle
Marriage Feud at Ponca City
Grandpa and Genie
Wagon Wheel Trail
Chain of Events
The Doctor Story
The Sheriff was a Redhead
Hands Across the Border
The Avenging Gunman
The Monster in the Lake
The Maverick
Stolen Church Funds
Ol' Pardner Rides Again
Gorilla at Owlhoot Mesa
Cry Wolf
The Boy and the Hound Dog
The Sheriff's Secret
To the Highest Bidder
Outlaw's Portrait
The Music Teacher
Old Cowboys Never Die
Blake's Kid
Treasure Trail
Ambush
The Hideout
Halley's Comet
Blind Alley
The Golden Rainbow
The Kangaroo Kaper
The Missing Diamonds
Wild Bill's Odyssey
The Rainmaker
Ghost Town Lady
The Runaway Wizard
Civilian Clothes Story
Homer Atchison
Silver Stage Holdup
A Joke on Sir Anthony
Battle Line
The Return of Red Hawk
The Angel of Cedar Mountain
The Nephew from Back East
The Kid from Red Butte
Wrestling Story
The Lady Mayor



The Contents of this collection are from the Public Domain
---
BRAND NEW COLLECTION

ALL REGION DVD's
18 Volume DVD Set
Brand New/
Shrink wrapped
68 Episodes from Television on 17 DVD's
Plus as a Bonus - 229 Radio Shows in MP3 on 1 DVD
Collection comes in DVD cases with Show Titles on Each Disc
Now on Sale for Only $49.99
Order this 18 DVD Collection for Only $69.99
---
---
PayPal, Checks and Money Orders are accepted!
For Questions Click Here
the Mailing Address to send payment
Pay us securely with any major credit card through PayPal!