December Bride 1954-59 TV
5 DVD Set (20) episodes
Lily Ruskin (Spring Byington), a spry widow who was not in fact a "December bride" but very much desired to become one lives with her daughter and son-in-law. Lily along with her close friend Hilda Crocker (Verna Felton), are always trying to find suitable older marriageable companionship. Familar comedy bits included neighbor Pete Porter's (Harry Morgan) complaints about his heard but never seen wife Gladys.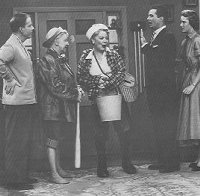 starring:
Spring Byington as Lily Ruskin
Frances Rafferty as Ruth Henshaw
Dean Miller as Matt Henshaw
Verna Felton as Hilda Crocker
Harry Morgan as Pete Porter
20 Great episodes on this 5 DVD Collection, recorded mostly from 16mm film.
You'll love the quality of these shows.
---
DVD 1 DVD 2 DVD 3
Lily is Bored


The Grandfather Clock


The Chinese Dinner


Matt's Movie Career

Skid Row


Family Quarrel


High Sierras


The Trailer Show

Jaywalker


The Budget Show


Study Group


Mean Grandfather
DVD 4 DVD 5
Grunion Hunting


Big Game Hunter


Matt's Movie Career


The Golf Lesson

The Parrot Show


The Mickey Rooney Show


The Alaska Show


Nurse is Fired
This collection is in the Public Domain
---
Order this 5 DVD Collection for Only $24.99
---
PayPal, Checks and Money Orders are accepted!
For Questions
Click Here
the Mailing Address to send payment
Pay us securely with any major credit card through PayPal!