1960 - 1961 T.V. Series
16 Episodes on 4 DVD's
Klondike Television Show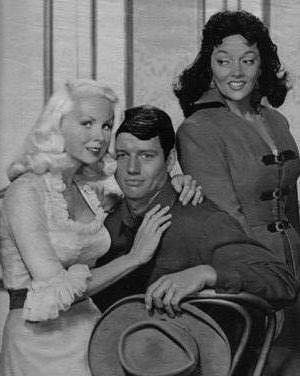 Joi Lancing, Ralph Taeger and Mari Blanchard


KLONDIKE, starring James Coburn and Ralph Taeger, ran from
1960-1961. It was set during the Alaskan gold rush. Lots of great adventure
and action stories with lots of original Salem commercials. Picture and sound
quality are very good throughout. There were only 17 episodes made and this collection is the most complete collection with all 16 that are available.
If you find a copy of the lost episode (Halliday's Club) in your attic
please contact us :-)


Various episodes of Klondike were directed by Sam Peckinpah
and William Conrad


Series Cast
Mari Blanchard ... Kathy O'Hara
Ralph Taeger ... Mike Halliday
James Coburn ... Jeff Durain
Joi Lansing ... Goldie
L.Q. Jones ... Joe Teel



Notable Guests:

Lon Chaney Jr.
Ralph Moody
Jack Elam
Edgar Buchanan
George Kennedy
Richard Kiel
Claude Akins
---
The Collectors Edition includes the following episodes
Klondike Fever
River of Gold
Saints and Stickups
The Unexpected Candidate
88 Keys to Trouble
Swoger's Mule
Sure Thing, Men
Taste of Danger
Bare Knuckles
Bathhouse Justice
Swing Your Partner
The Golden Burro
Queen of the Klondike
The Man Who Owned Skagway
Sitka Madonna
The Hostages
The Contents of this collection are from the Public Domain
---
BRAND NEW COLLECTION

ALL REGION DVD's
4 Volume DVD Set
Brand New/
Shrink wrapped
Collection comes in DVD cases with Show Titles on Each Disc
Now on Sale for Only $
24.99
Order this 4 DVD Collection for Only $34.99
---
---
PayPal, Checks and Money Orders are accepted!
For Questions Click Here
the Mailing Address to send payment
Pay us securely with any major credit card through PayPal!