19 Complete Movies 10 DVD's
Eddie Dean Movie Collection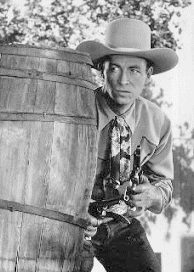 Eddie Dean made his name as a country-western singer on radio in the '30s.
His career started to take off in the early 1940s and by 1945 he was among the more popular of the cowboy stars. Eddie was a founding member of the Academy of Country Music and an officer for more than 10 years. He wrote some notable songs, such as "One Has My Name, The Other Has My Heart" and "Hillbilly Heaven".

He used four different horses during his westerns: War Paint, White Cloud,
Copper and Flash.


---
The Collectors Edition includes the following Movies

The Hawk of Powder River 1948
The Westward Trail 1948
Driftin' River 1946
Stars Over Texas 1946
Prairie Outlaws 1946
Check Your Guns 1948
Shadow Valley 1947
Tornado Range 1948
Wild Country 1947
Tumbleweed Trail 1946
Down Missouri Way 1946
Song of Old Wyoming 1945
Colorado Serenade 1946
Romance of the West 1946
Wild West 1946
West to Glory 1947
Black Hills 1948
The Tioga Kid 1948
Range Beyond the Blue 1947
The Contents of this collection are from the Public Domain
---
BRAND NEW COLLECTION

ALL REGION DVD's
10 Volume DVD Set
Brand New/
Shrink wrapped
Collection comes in DVD cases with Show Titles on Each Disc
Now on Sale for Only $
39.99
Order this 9 DVD Collection for Only $49.99
---
---
PayPal, Checks and Money Orders are accepted!
For Questions Click Here
the Mailing Address to send payment
Pay us securely with any major credit card through PayPal!