A Must Have Collection for any Western Fan!!!
The Rebel
The Complete TV Series
"He Packed No Star As He Wandered Far"

Johnny Yuma (Nick Adams) was an ex-Confederate solder who
wandered the West. In his travels he came across people who
needed his help which was freely rendered. He kept journals on
his travels, a habit which Adams also embraced.

Nick Adam's played Johnny Yuma as a brooding, troubled man.
People close to Adam's say he totally identified with the character
which provided Adams with his favorite role.


The series is about the adventures of young Confederate Army
veteran Johnny Yuma (played by Nick Adams). Haunted by his
memories of the war, Yuma roams the American West, specifically
the plains and hill country of central and west Texas, in search of
inner peace. Yuma keeps a journal of his adventures and fights
injustice where he finds it with the help of a double-barreled
shotgun having a sawed-off stock and barrel.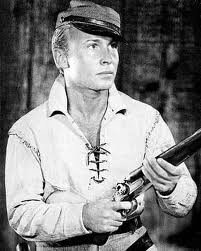 Nick Adams as Johnny Yuma
The Rebel is in the public domain and this set has not been
remastered, but has been produced from the best available
sources, including broadcast, film and VHS to complete this
collectors edition. With this many episodes quality will vary.
But on average, video/audio quality is between 7 and 8 on a
scale to 10. There will be some episodes of higher quality and
some lesser (especially the first DVD) .
Discs are region free and play worldwide.
Collectors Set includes: 10 DVD's
All 76 Episodes
DISC ONE

JOHNNY YUMA
JUDGMENT
YELLOW HAIR
VICIOUS CIRCLE
PANIC SCAVENGERS
SCHOOL DAYS
DARK SECRET



DISC TWO

THE MISFITS
IN MEMORIAM
THE VAGRANTS
GUN CITY
DEATH OF GRAY
ANGRY TOWN
THE GOLD SEEKER
GLORY


DISC THREE

THE UNWANTED
THE CRIME
NOBLESSE OBLIGE
LANE HE'S ONLY AS BOY
TAKE DEAD AIM
THE RATTLER
YOU STEAL MY EYES


DISC FOUR

FAIR GAME
UNSURRENDERED SWORD
CAPTURE TREMBLER BLIND MARRIAGE
ABSOLUTION GRAVE FOR JOHNNY YUMA
IN MEMORY OF A SON
PAINT A HOUSE WITH SEARLET



DISC FIVE

GRANT OF LAND
NIGHT ON A RAINBOW
LADY OF QUALITY EARL OF DURANGO
JOHNNY YUMA SAT APPOMATTOX
THE BEQUEST THE CHAMP
THE WAITING



DISC SIX

TO SEE AN ELEPHANT
DEATHWATCH
RUN KILLER RUN
THE HUNTED
DON GRINGO
THE EXPLOSION VINDICATION


DISC SEVEN

SCALP HUNTER
BERSERK
THE HOPE CHEST
LIBERATORS
THE GUARD
THE PROMISE
JERKWATER
PAPERBACK HERO



DISC EIGHT

THE ACTRESS
THE THREAT
ROAD TO JERICHO
LAST DRINK
BURYING OF SAMMY HART
THE PIT SHRIEK OF SILENCE
TWO WEEKS



DISC NINE

MIZ PURDY
BALLAD OF DANNY BROWN
THE PROXY
DECISION AT SWEETWATER
HELPING HAND
UNCOURAGEOUS



DISC TEN

MISSION VARINA
CALLEY KIA
BEN WHITE
THE FOUND
THE HOSTAGE
THE EXECUTIONER





This collection is in the Public Domain
---
BRAND NEW COLLECTION
ALL REGION DVD's
Factory Sealed
10 Volume Set
Collection comes in DVD cases with Show Titles on Each Disc
Order this 1
0 DVD Collection for Only
$59.99
On Sale Now for Only $29.99
Still to Much? Check out the Budget Sets
---
---
PayPal, Checks and Money Orders are accepted!
For Questions Click Here
the Mailing Address to send payment
Pay us securely with any major credit card through PayPal!