CAPTAIN MIDNIGHT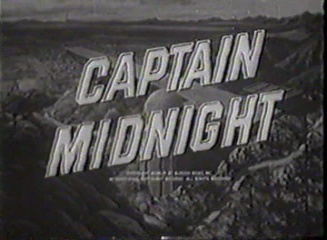 Opening announcement:

On a mountaintop, high above a large city, stands the headquarters
of a man devoted to the cause of freedom and justice... a war hero
who has never stopped fighting against his country's enemies...
a private citizen who is dedicating his life to the struggle against
evil men everywhere...

CAPTAIN MIDNIGHT!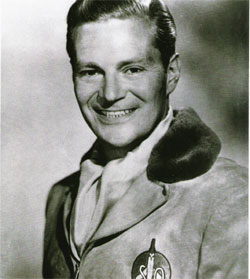 Richard Webb as Captain Midnight
Collectors Set includes: 4 DVD's and 1 MP3 CD
24 Episodes of the 1950's TV Series
All15 Chapters of the 1942 Serial
Special Bonus of 52 Old Time Radio Shows in MP3

CAPTAIN MIDNIGHT! The Secret Squadron, Decoding secret messages,
fighting evil villains intent upon taking over the world! The first couple of
episodes have the original cereal and Ovaltine commercials included.


TV Show Includes:

(1) Deadly Diamonds

(2) The Frozen Men

(3) Mission To Mexico

(4) The Million Dollar Diamond

(5) The Jungle Pit

(6) Murder By Radiation

(7) The Electronic Killer

(8) The Isle Of Mystery!

(9) Flight In To The Unknown

(10) Sunken Sapphires

(11) Trapped Behind Bars!

(12) The Secret Room

(13) Top Secret Weapon

(14) Death Below Zero

(15) The Electrified Man

(16) The Mark Of Death!

(17) Secret Of Superstition Mountain

(18) The Deadly Project

(19) The Mountain Of Fire

(20) The Invisible Terror

(21) The Deserters

(22) Saboteurs Of The Sky

(23) The Curse Of The Pharaohs

(24) The Walking Ghost
CAPTAIN MIDNIGHT - 15 CHAPTER - SERIAL CLIFFHANGER 1942

Starring:

Dave O'Brien, James Craven,

Dorothy Short, Bryant Washburn

(1) Mysterious Pilot

(2) The Stolen Range Finder

(3) The Captured Plane

(4) Mistaken Identity

(5) The Ambushed Ambulance

(6) Weird Waters

(7) Menacing Fates

(8) Shells Of Evil

(9) The Drop To Doom

(10) The Hidden Bomb

(11) Sky Terror!

(12) The Burning Bomber

(13) Death In The Cockpit

(14) Scourge of Revenge

(15) The Fatal Hour!
This collection is in the Public Domain
---
BRAND NEW COLLECTION

ALL REGION DVD's
5 Volume Set
Collection comes in DVD cases with Show Titles on Each Disc
Order this
DVD Collection for Only $24.99
---
---
PayPal, Checks and Money Orders are accepted!
For Questions Click Here
the Mailing Address to send payment
Pay us securely with any major credit card through PayPal!